The Tempest was performed November 2004 at the Rock Island Housing Authority building.
It was directed by JC Luxton.
The cast
Denise Yoder
Alonza, Queen of Naples
Andrew J. Koski
Antonio, Duke of Milan, brother to Prospero
John Turner
Gonzalo, an old councilor
Bryan Woods
Sebastian, brother to Alonza
Andy Lord
A Mariner of the Queen's Flagship
Stephano, a butler
Angela Rathman
A Mariner of the Queen's Flagship
Trincula, a jester
Maggie Woolley
Miranda, daughter to Prospero
J.C. Luxton
Prospero, the right Duke of Milan
Stephanie Burrough
Ariel, an Airy Spirit
Aaron Sullivan
Caliban, a savage and deformed slave
Beau Smith
Ferdinand, son to the Queen of Naples
Merideth Nepstad
Adria, Officer of the Queen's Guard
Jill Sullivan-Bennin
Francisca, Officer of the Queen's Guard
And Introducing
Mac Parker
The Bosun of the Queen's Flagship
A Spirit in Ariel's Quality
Quad City Times review of the Tempest
Prenzie Players whip up impressive 'Tempest'
Ruby N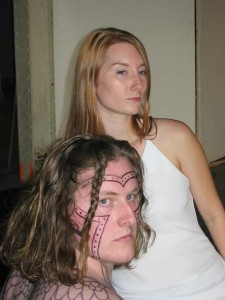 ancy | Friday, November 19, 2004
William Shakespeare's "The Tempest," a more abstract play than this playwright usually is credited with, has a number of moments that are solemn, and this is not the only way the 1610 play is different than many others attributed to the Bard.
Centering on the character of Prospero, an enchanter who has been in exile with his daughter, this magical story touches on big if often personal issues such as self-control and reconciliation, and despite its overall serenity, this script offers a number of opportunities for physical humor and lively fun.
While the use of slaves and the matter-of-fact way slavery is presented may be disturbing for some modern audiences, the focus of the play is really on the ease with which most humans can enslave themselves, with a few hints as to just how freedom might be achieved.
Director Cait Woolley, who helms this Prenzie Players offering, has plenty to be proud of again this time around.
With a Dramatis Personae much smaller than many of Shakespeare's works, the cast of 14 has to play fewer roles than they might in one of the big dramas, but the work of this mostly seasoned group of actors is no less impressive.
And the clean, modern staging in a spare, effectively utilized space combined with a simple black-and-white color scheme also works very well.
J. C. Luxton is Prospero, the right Duke of Milan, and his intense, sometimes thoughtful performance is at the heart of this classic play. More introspective than regal, Luxton's work is a steady, even reliably excellent portrayal that grounds all that the other performers do.
Maggie Woolley's performance as Miranda, Prospero's daughter, is also fine work, as is that of Stephanie Burrough, who appears as Ariel, the spirit who represents all the magical forces at work on Prospero's island. Denise Yoder turns in a nice performance as Alonza, Queen of Naples, and Beau Smith's turn as Ferdinand, the queen's son, is truly delightful work.
Comic relief and some really great physical schtick in this production are the domain of Andy Lord and Angela Rathman, who play a couple of fun-loving characters that offer plenty of entertaining moments to lighten the mood. Other performers also turn in nice work there's not a single performer whose portrayal is not worthy of this first-rate production, which opens with a dramatic shipwreck scene that is a classic example of ensemble accomplishment.
Luxton, though, is most definitely (and rightly so) the star here, and by the time he closes his epilogue, audiences will be willing to offer him almost any indulgence he would ask.
Make sure you don't miss the chance to be one of the people who stands up to do just that.