By JC Luxton
Directed by Cait Bodenbender
June 2013
"Likely one of the best locally written and staged works done by any company in the area…"
–David Burke, Quad-City Times
"J.C. Luxton's writing has a beautiful eloquence about it… an unmistakable feel of authenticity… His Bear Girl is a worthy addition to the troupe's history of exceptional productions of exceptional works."
–Thom White, River Cities' Reader
"…a riveting performance of bold acting."
–Ashley Gomez, Dispatch-Argus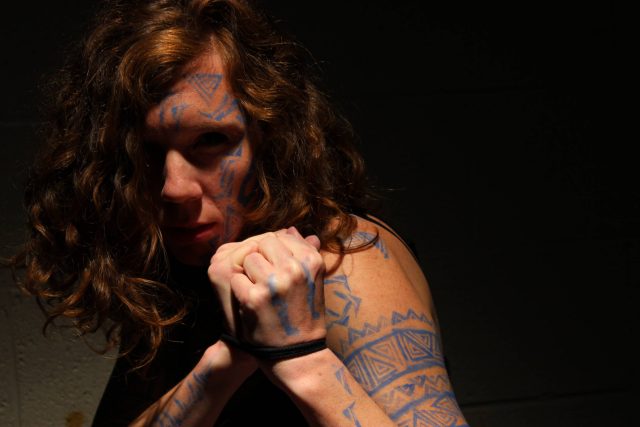 Part of the Prenzie Players New Works Series.
A world premiere written by Prenzie co-founder JC Luxton, Bear Girl is a story of women and war and the young man who will become Black Hawk.
Bear Girl, daughter of a Sauk chief, burns with the certainty her mother still lives as a prisoner of her people's enemies.  After hearing a young man urging war, she begins manipulating family and friends to promote him as a leader, instigating an epic struggle for control of the Midwest. Bear Girl is a story of women's power in a time of war.
Trailer
Behind the Scenes of Bear Girl
For more information, note also the preview articles in the River Cities' Reader (Mike Schulz), Quad-City Times (David Burke) and Dispatch-Argus (Jonathan Turner).
---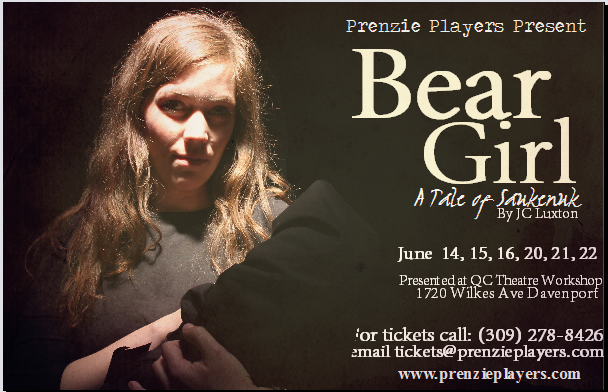 Bear Girl was first performed by Prenzie Players at QC Theatre Workshop on June 14, 2013.  The production was directed by Cait Bodenbender; the field recordings and soundscapes were by Terry Skaggs, bird and beaver taxidermy were by Merideth Nepstad, fight choreography and weapon construction were by Aaron Sullivan, and the lighting design was by William Scot Grecco Bray; the stage manager was Chris Sanders-Ring.
Program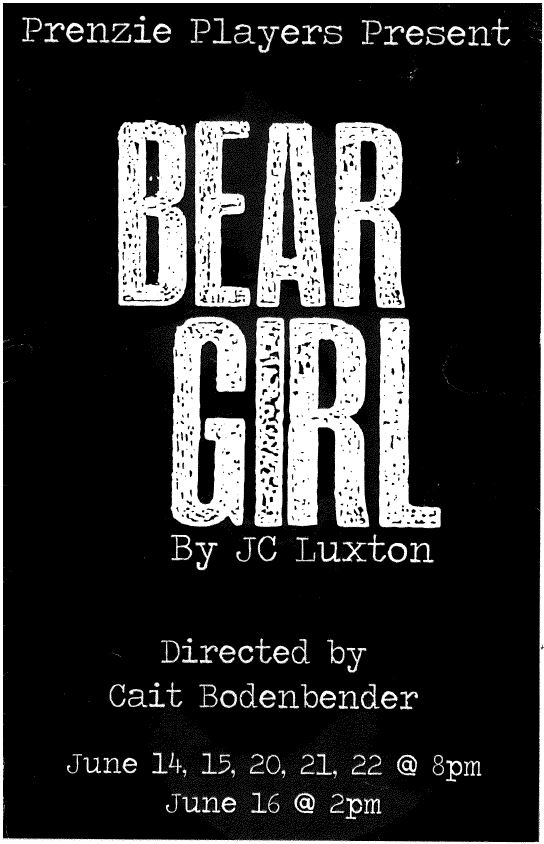 The Cast
Cole McFarren 
Yellow Thunder
Angela Rathman  
Water Lynx
The Venerable Woman of the Eagle Name
Beth Woolley       
The Venerable Woman of the Fish Name
Already Fish
Peeks Her Head Out
Niabi, a Down Below prisoner
Maggie Woolley   
The Venerable Woman of the Bear Name
Molting Feather
An Anonymous Down Below warrior
Singing Bird
White Bear
Jake Walker  
Black Falcon
The Venerable Woman of the Thunder Name
An Anonymous Down Below warrior
Jarrod DeRooi  
Shining Shoulder
An Anonymous Down Below warrior
The Venerable Woman of the Fox Name
Jeremy Mahr 
Blessinghouse Man
The Venerable Woman of the Groundnut Name
Andy Lord
White Feather
The Venerable Woman of the Wolf Name
Swing Round Towards Me
Becky Wren
Flying Over
The Venerable Woman of the Buffalo Name
Matt Moody
Swollen Hand
Thunderbird
And Introducing
Jen Brown as
Bear Girl
---
Creative Team
Costume Design: Jarrod DeRooi, Angela Rathman, Beth Woolley, Becky Wren, Cait Bodenbender
Costume Construction: Jarrod DeRooi, Becky Wren
Field Recordings & Soundscapes: Terry Skaggs
Set Design: Cait Bodenbender & THE CAST
Set Construction: Gini Atwell, Andy Lord, Lauren Moody, Matt Moody, Catie Osborn, Jake Walker, Beth Woolley, Becky Wren
Lighting Design: William Scot "Grecco" Bray
Lighting Engineer: Chris Sanders-Ring
Property Master: Angela Rathman
Fight Choreography & Weapon Construction: Aaron E. Sullivan
Mistress of Taxidermia: Merideth Nepstad
Publicity & Design: Denise Yoder & Catie Osborn
Sound Engineer: Jessi Beshears
Stage Manager: Chris Sanders-Ring
Director: Cait Bodenbender and THE CAST
---
The following persons provided either housing, nourishment, or support; offered wise critiques of earlier drafts; or endured persistent and niggling questions concerning minutiae:
Michelle Baugher, Stephanie Burrough, Kelly Collins, Kate Farence, Ives Goddard, Sara James-Childers, Danger Jarratt, Andy Koski, John & Sheryll Luxton, Jeb Makula,Catie Osborne, Dave Post, Regina Schantz, Tracy Skaggs, Helen Hornbeck Tanner, Hynden Walch
Beth Carvey & the Hauberg Museum at Black Hawk State Park
Tyson Danner & QC Theatre Workshop
Preston Duncan & the Meskwaki Nation
Stella Nullake & the Sac-Fox Nation
Regina Tsosie, Larry Lockwood, & the Native American Coalition of the Quad Cities