Directed by Cait Woolley
October-November 2003
In the RIHA Building
"…this slick, intense production plays up the spooky aspects of the famous drama without losing the script's integrity… A must-see show."
–Ruby Nancy, Quad-City Times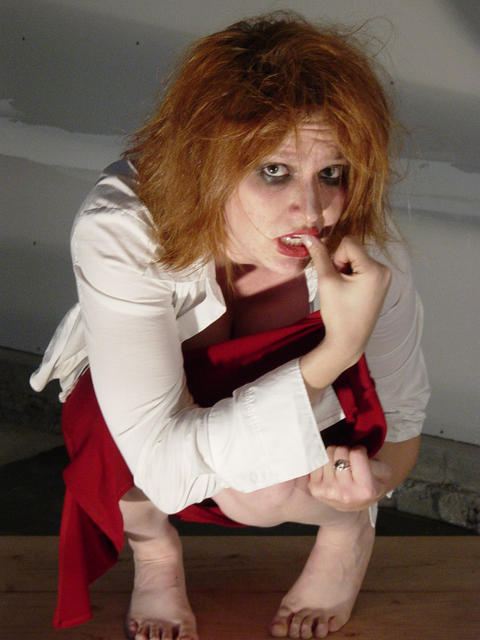 Our second season, 2003-2004, opened on Halloween night with Hamlet and continued in the spring of '04 with Cymbeline. Hamlet was our first performance at the Rock Island Housing Authority building. Basically a small, concrete floored room with windows on one wall and drywall on the other. It was just a half-block east of our first location and served us well for several shows.
Hamlet was directed by Cait Woolley with fight choreography by Aaron Sullivan.
1. This top slot goes to the haunting, even stunning "Hamlet," a slick, intense show from The Prenzie Players, the scrappy upstart of a theater group that uses found space and non-"fourth wall" staging to fantastic advantage in its productions of classical works. With just two shows to show for their efforts so far, the Prenzie Players prove to be a group to watch.
The Cast
Denise Yoder
Francisca, a soldier
Gertrude, Queen of Denmark
Jill Sullivan-Bennin
 Barnarda, a soldier
Cornelius, an ambassador
Rosencrantz, a courtier
a nameless rustic
Tracy Skaggs
 Horatio, a student
Beau Smith
 Marcellus, a soldier
Voltemand, an ambassador
Guildenstern, a courtier
Beau Smith
a nameless sexton
Aaron Sullivan
 Hamlet, King of Denmark
Claudius, King of Denmark
John Turner
Polonius, councillor to the King
a nameless gentleman
a nameless priest
Bryan Woods
Laertes, son of Polonius

J.C. Luxton
Hamlet, Prince of Denmark
TeAnna Mirfield
Ophelia, daughter of Polonius
Osric, a foppish courtier
Cait Woolley
a nameless Norwegian captain
And Introducing…
Andrew J. Koski
Fortinbras, Prince of Norway