Directed by Cait Bodenbender (etc.)
April-March 2007
"…this spectacular ensemble… has taken on yet another theatrical challenge, and has succeeded. Royally."
–Mike Schulz, River Cities' Reader
"…an often laugh-aloud funny, sometimes deeply moving, vastly entertaining piece of theater, and I can't wait to see what happens in May, when 'King Henry the Fifth' opens."
–Ruby Nancy, Quad-City Times
"…the wildest action to date in the company's Shakespearean performances."
–Julie Jensen, Dispatch-Argus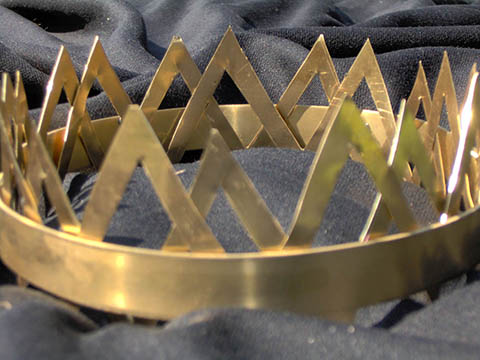 Prenzie Players present King Henry the Fourth, the second play in Shakespeare's epic trilogy of power, love, and war, The Henriad — performed with a continuous cast for the first time in the area.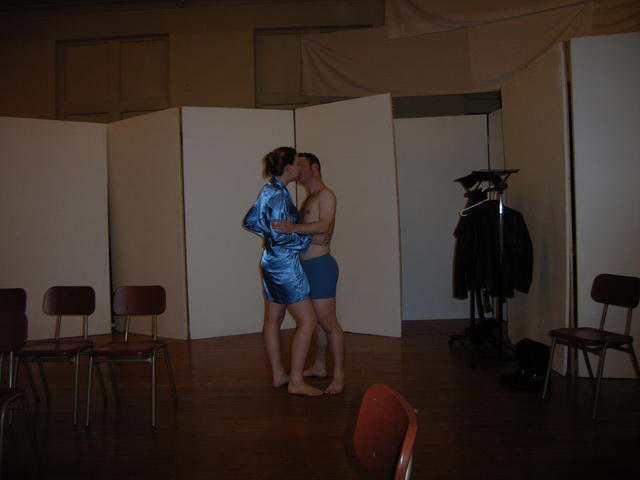 Jeremy Mahr, King Henry the Fourth. In a recent comment posted on the Reader Web site, an anonymous writer stated, "I'd see Jeremy Mahr in 52 productions a year." Ah, if wishing made it so. Always excellent, Mahr was positively hypnotic in the second part of the Prenzie Players' Henriad trilogy; unlike his dying ruler, the audience didn't dare cough for fear of ruining a perfectly realized moment.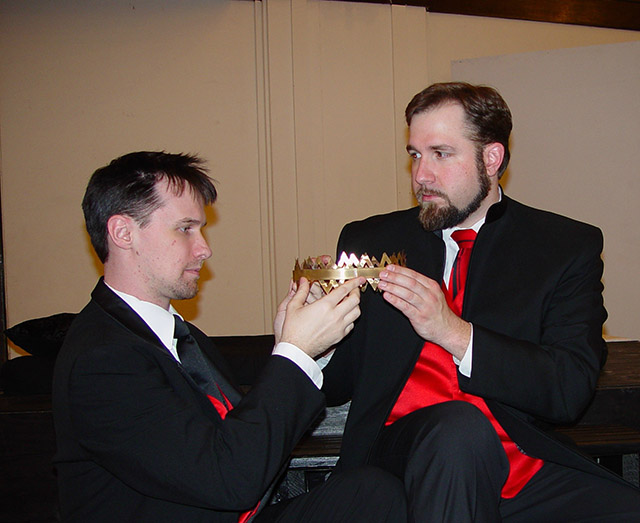 For more information on The Henriad, its inception and overall plan ("…an enormously ambitious undertaking, one rarely attempted in this country, yet the Prenzie Players are not ones to shy away from a challenge…"), see the preview article in the River Cities' Reader (Mike Schulz).
Program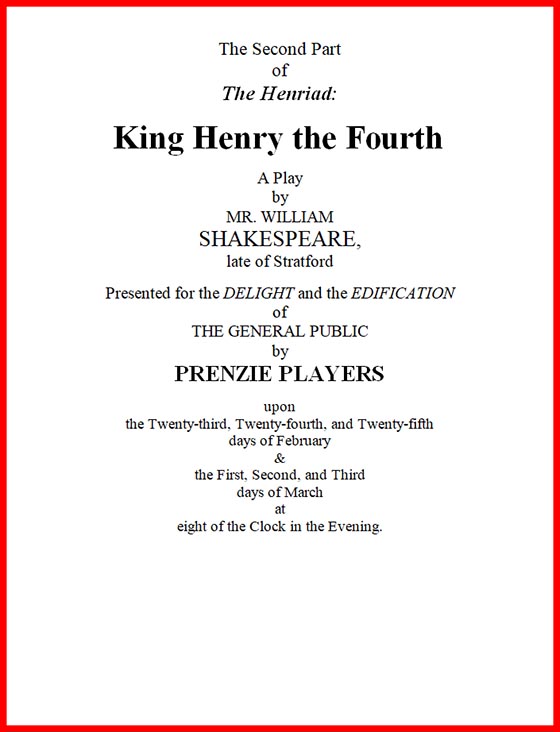 The Cast
Jeff De Leon
Prince Henry of Monmouth, eldest son to King Henry, called Hal
Chris Moore
Sergeant Fang, an officer of the law
An Anonymous Newsmonger
Nim, a follower of Falstaff
Archibald, the Earl of Douglas
Ralph Mouldy, a country recruit
Linnea Ridolfi
Meg Poins, a companion to Hal
Kate, Lady Percy, wife to Hotspur, sister to Edmund Mortimer
Francis Feeble, a country recruit
Jill Sullivan-Bennin
Prince John of Lancaster, Duke of Bedford, middle son to King Henry
Thomas Percy, Earl of Worcester, brother to Northumberland
Matt Gerard
Prince Humphrey, Duke of Gloucester, youngest son to King Henry
Robin, Falstaff's page
Edmund Mortimer, Earl of March, true to the crown, brother to Kate
Jeremy Mahr
King Henry the Fourth, formerly known as Bullingbrook
An Anonymous Traveler
Peter Bullcalf, a country recruit
An Anonymous Soldier
Bryan Woods
Ralph, Earl of Westmorland
Owen Glendower, self-proclaimed Prince of Wales
Pistol, a follower of Falstaff
Beth Woolley
An Anonymous Newsmonger
An Anonymous Traveler
Doll Tearsheet, a whore
Justice Silence, a country justice
An Anonymous Messenger
Maggie Woolley
An Anonymous Newsmonger
Bardolph, a follower of Falstaff
Lady Mortimer, daughter to Glendower
Stephanie Burrough
Sir Walter Blunt
An Anonymous Traveler
An Anonymous Servant
Mistress Nell Quickly, widowed owner of the Boarshead Tavern
Justice Shallow, a country justice
Aaron E. Sullivan
Sir William Gascoigne, Lord Chief Justice
Sir Henry Percy, Earl of Northumberland, father to Hotspur
An Anonymous Traveler
Simon Shadow, a country recruit
J.C. Luxton
Sir Henry Percy, son to Northumberland, called Hotspur
Davy, servant to Justice Shallow
An Anonymous Soldier
Jake Walker
Supernumerary 1
Joel McCollum
Supernumerary 2
Stephen Zbornik
Supernumerary 3
Tracy Skaggs
Supernumerary 4
And Introducing
Brian Nelson as
Sir John Falstaff
---
Direction: Cait Bodenbender, Tracy Skaggs, Denise Yoder & THE CAST
Costume Design: Cait Bodenbender, Anne Woolley
Master Weaver: Peggy Freeman
Fight Master: Aaron E. Sullivan
Master Builders: Aaron E. Sullivan & Jeremy Mahr
Publicity Master: Denise Yoder
Graphics Master: Jeff De Leon ably assisted by Terry Skaggs & Tracy Skaggs