Directed by Kate Farence
April 2018
"Fine performances…one of the more balanced productions I've seen presented by the Prenzies."
"Feel the intensity of King John… While the dialogue is pristinely original, the delivery makes it feel so much more modern. Even if you don't have a knack for Shakespearean interchange, you will still be able to follow this story line."
"Kudos to Prenzie for adhering to its mission to perform the full canon of Shakespeare's works. Kate Farence ably pilots a squadron of very capable veterans as well as some talented and refreshing newcomers to the Prenzie stage."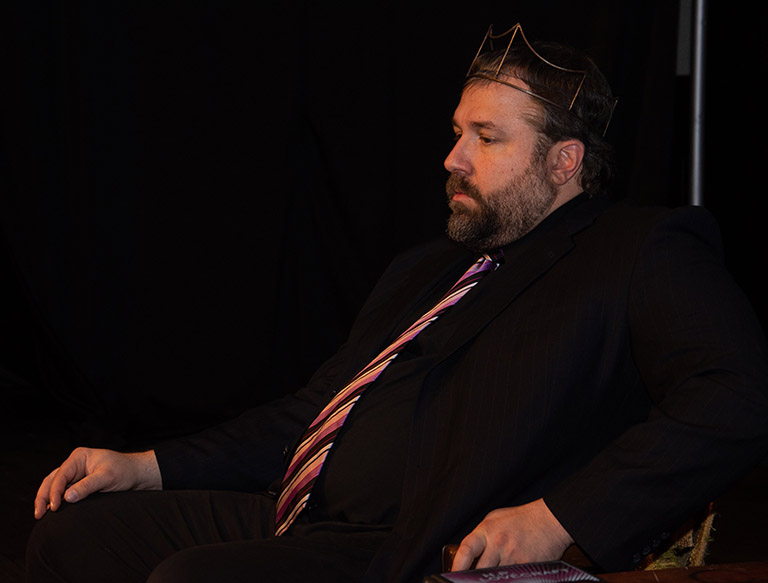 Betrayal. Bloodshed. Bastards.
Prenzie Players present William Shakespeare's King John, the story of England's maniacal monarch and his violent pursuit of power – by whatever means necessary.
Although the show's run is over, you can still have fun with the King John Coloring Book and the Co-Author King John game!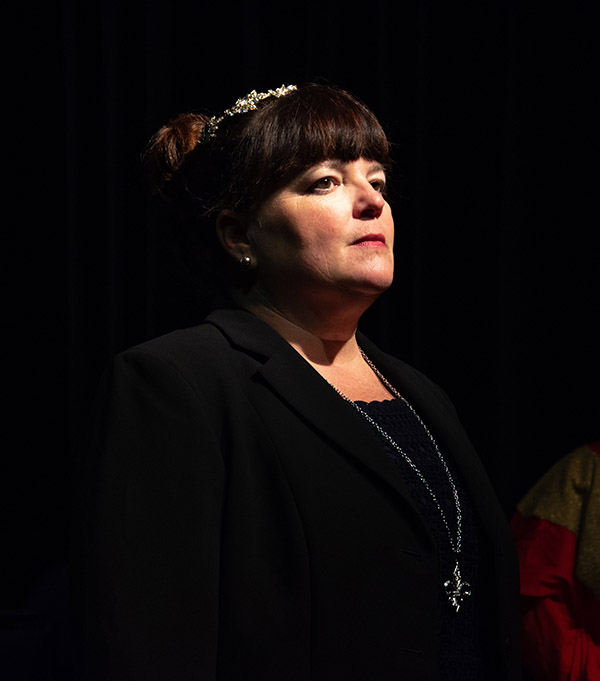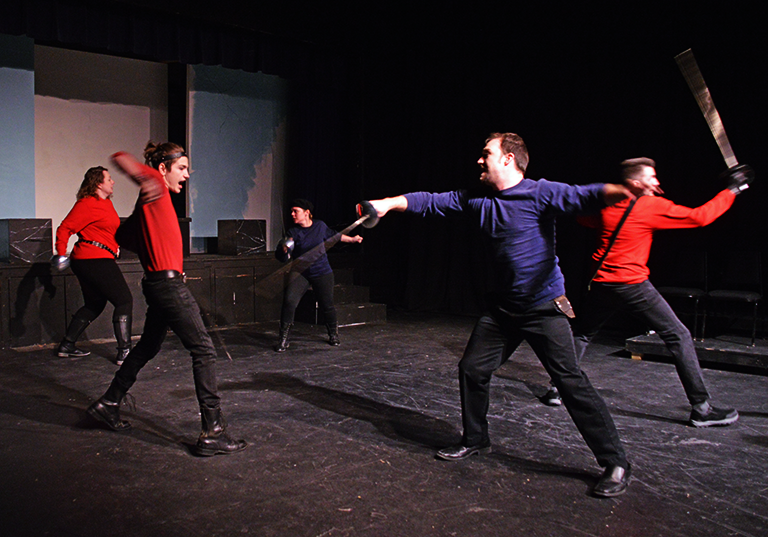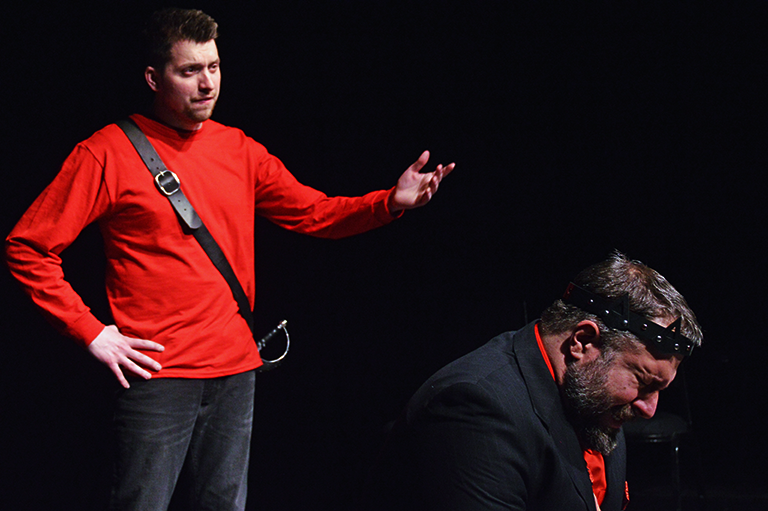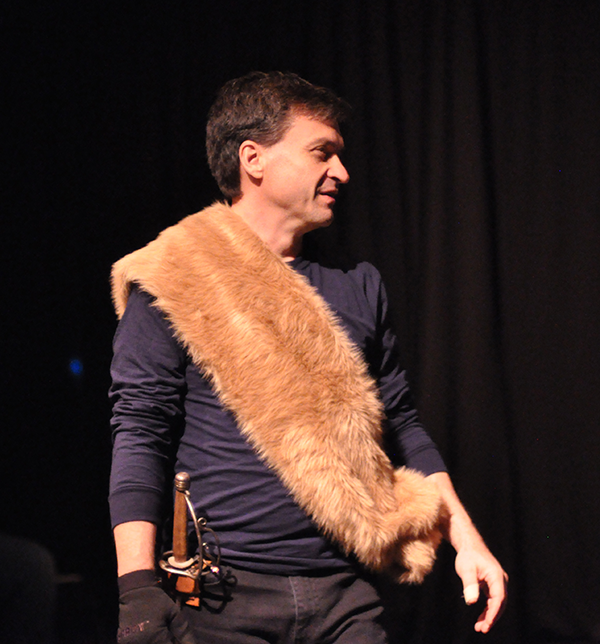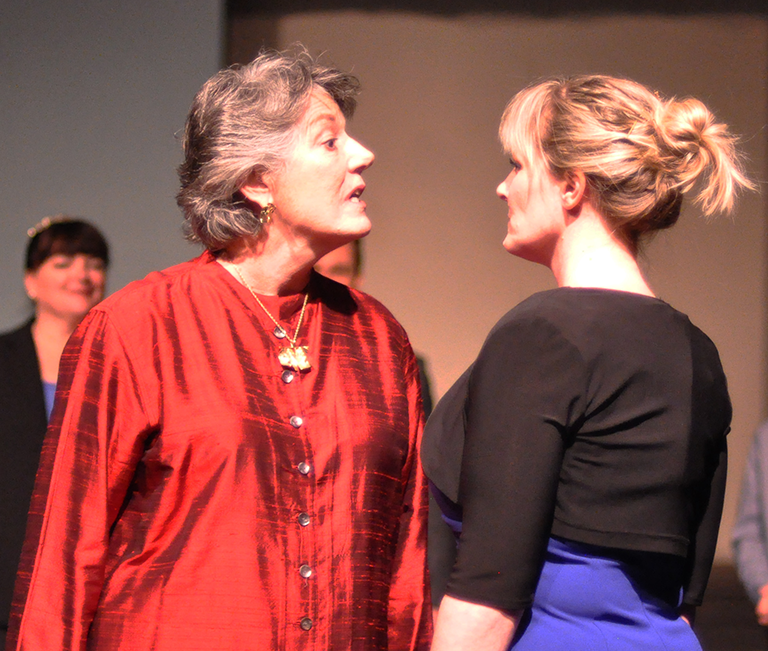 Program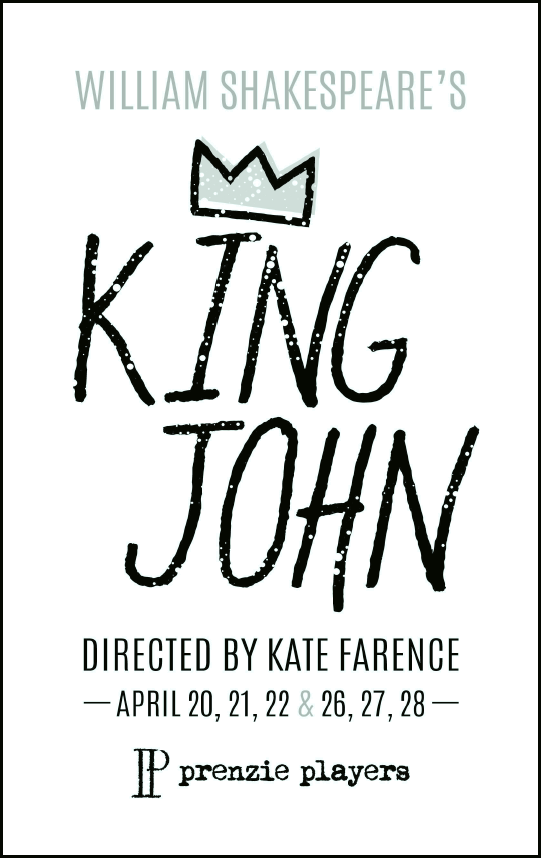 The Cast
Jeremy Mahr
King John of England
Susan Perrin-Sallak
Queen Elinor, his mother and widow of Henry II of England
Brody Ford
Prince Henry, his son
Kitty Israel
Blanche of Castille, his niece
& Roberta Bigot, Lady Earl of Norfolk
Andy Curtiss
William 'Long-Sword', Earl of Salisbury
Mike Carron
William Marshal, Lord of Pembroke
Joe Sager
Peter of Pomfret, an English "prophet"
& an English Soldier
& a French Soldier
Katie Nichols
An English Attendant
& an English Soldier
Mattie Gelaude
An English Attendant
& a Citizen of Angiers
& an English Messenger
& a French Soldier
Nathan Klaus
Philip Faulconbridge, also known as The Bastard and Sir Richard Plantagenet, the illegitimate son of Richard I of England and Lady Faulconbridge
Tracy Skaggs
Robert Faulconbridge, legitimate son of the deceased Sir Robert and Lady Faulconbridge
& Duke of Austria, an ally of Queen Philippa of France
Alaina Pascarella
Lady Faulconbridge, Philip's and Robert's mother
& Cardinal Pandulph, representative of Pope Innocent III
Denise Yoder
Queen Philippa of France
Cole McFarren
Louis the Dauphin, her son
Mischa Hooker
Chatillion, a French Nobleman and Ambassador to King John
& Langton, the Archbishop of Canterbury
Jessica White
Constance, wife of Geoffrey the deceased son of Henry II of England
Joe Brune
Arthur, her son, nephew of King John, claimant to the throne of England
Angela Rathman
Hubert, a Citizen of Angiers and later supporter of the English cause
---
The Crew
Director: Kate Farence
Assistant Director: Payton Brasher
Stage Manager: Liz Sager
Fight Choreographer: Aaron E. Sullivan
Fight Master: Payton Brasher
Set Design: Kate Farence
Set Construction: Payton Brasher, Kate Farence, Andrew Lord, Elizabeth Woolley, Denise Yoder, and Tom Sallak
Set Painting: Catherine Bodenbender, Kate Farence, Nathan Klaus, Alaina Pascarella, and Liz Sager
Sound and Lights: Elizabeth and Justin Hager
Sound and Light Board Operator: Andrew Bruning and Liz Sager
Props: Angela Rathman, Denise Yoder, and THE CAST
Costumes: Kate Farence, Angela Rathman, Denise Yoder, and THE CAST
Artistic Director and Producer: Catherine Bodenbender
Front of House: Catherine Bodenbender
---
Special Thanks
Butterworth Center and Deere-Wiman House
Tyson Danner
Aimee and Josh Ford
Quad Cities Theatre Workshop