Directed by Cait Bodenbender
April 2006
At the Rock Island Masonic Temple
"The Prenzie Players and the show's inspired director, Cait Bodenbender, have managed – again – to make a work that's nearly a half-millennium old feel revelatory… honest… deeply imagined, and unique, and alive."
–Mike Schulz, River Cities' Reader
"This is the Bard's work — in all its clever, bawdy, lyrical glory — and it is done with… verve and clarity and attention to the finer points of the text…"
–Ruby Nancy, Quad-City Times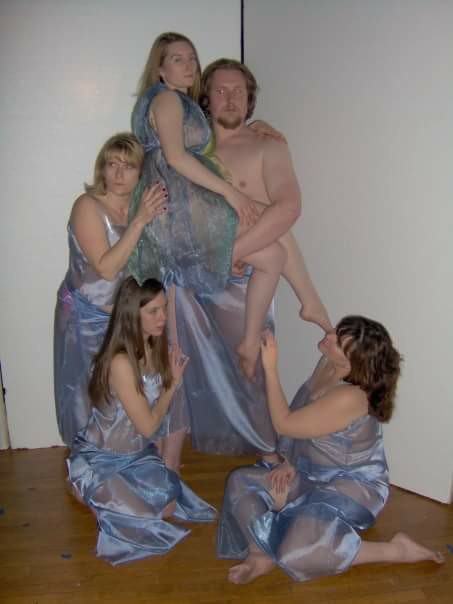 For more information, see also the preview article from the Dispatch-Argus (Jeff Dick).
Program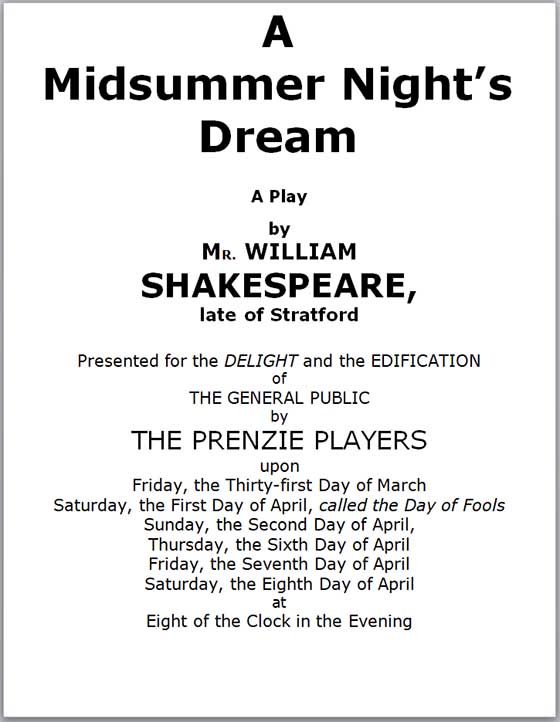 Aaron E. Sullivan
Theseus, Duke of Athens
Cobweb, a fairy
Beth Woolley
Hippolyta, former Queen of the Amazons
Peaseblossom, a fairy
Karl Bodenbender
Philostrate, Master of the Revels
Robin Goodfellow, a puck
Tracy Skaggs
Egeus, a lord of Athens
Francis Flute, a bellows mender
Maggie Woolley
Hermia, daughter to Egeus
Andrew Koski
Demetrius, a gentleman of Athens
Jeremy Mahr
Lysander, a gentleman of Athens
Linnea Ridolfi
Helena, a gentlewoman of Athens
Denise Yoder
Penny Quince, a carpenter
Mustardseed, a fairy
Michael Carron
Nick Bottom, a weaver
Angela Rathman
Robin Starveling, a tailor
Mote, a fairy
Jeff De Leon
Tom Snout, a tinker
Oberon, the Fairy King
Stephanie Burrough
Snug, a joiner
Titania, the Fairy Queen
---
Direction: Cait Bodenbender, assisted by THE CAST & J.C. Luxton
Adjutant: Tracy Skaggs
Costume Construction: Denise Yoder
Costumes Design: Cait Bodenbender, assisted by Anne Woolley & Denise Yoder
Fight Master: Aaron Sullivan
Musical Direction: Cait Bodenbender
Publicity: Denise Yoder
Set Construction: Aaron Sullivan, assisted by Cait Bodenbender
Set Design: Cait Bodenbender, assisted by Aaron Sullivan
---
Special Thanks
Art & Louann Bodenbender
Vicki Jones
Kevin Koski
Sheryll Luxton
The Masonic Lodge of Rock Island
The Richmond Hill Players
Terry Skaggs
Frank & Maureen Woolley
Brett Yoder
---
Best of Theater 2006 from the Quad-City Times
A year of women, a year of the dramatic
Thursday, December 28, 2006
Ruby Nancy
(excerpted)
Director Cait Bodenbender put together a great "Midsummer Night's Dream," which featured a slew of sexy (and mostly female) fairies. Aaron Sullivan and Karl Bodenbender were also standouts as sprites in this delightful show, and Sullivan also did very strong work in "Richard II." Stephanie Burroughs had the title role in "Richard II," and her fantastic work was at the heart of this show, which also featured great work by Maggie Wooley and Linnea Ridolfi (who were top-notch in "Midsummer Night's Dream," too). Another "Richard II" and "Midsummer Night's Dream" standout was Jeremy Mahr, whose lead role in Richmond Hill's "The Perfect Wedding" made narrowing the list to a Top 10 quite difficult.