Directed by JC Luxton (etc.)
October-November 2006
"…top-notch theater, done with class and intellectual honesty."
–Ruby Nancy, Quad-City Times
"…so blisteringly alive that I left the production feeling rejuvenated and inspired, and hungry for more. From beginning to end, Prenzie's King Richard the Second isn't just smart and soulful – it's joyous."
–Mike Schulz, River Cities' Reader
"…both bemusing and amusing."
–Julie Jensen, Dispatch-Argus
(Photo Credits: Tracy Skaggs)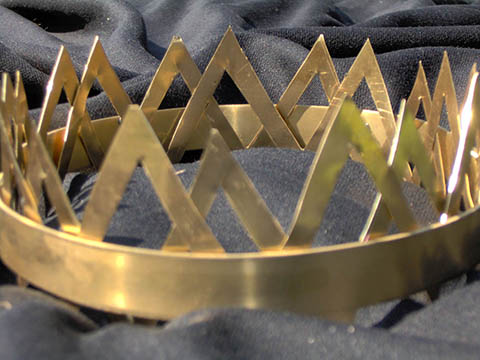 Prenzie Players present King Richard the Second, the first play in Shakespeare's epic trilogy of power, love, and war, The Henriad–performed with a continuous cast for the first time in the area. Lush and sensual, heroic and theatrical, violent and poetic, and performed in our fast and intimate style, King Richard the Second tells the tale of a man who loses his kingdom, but finds his soul.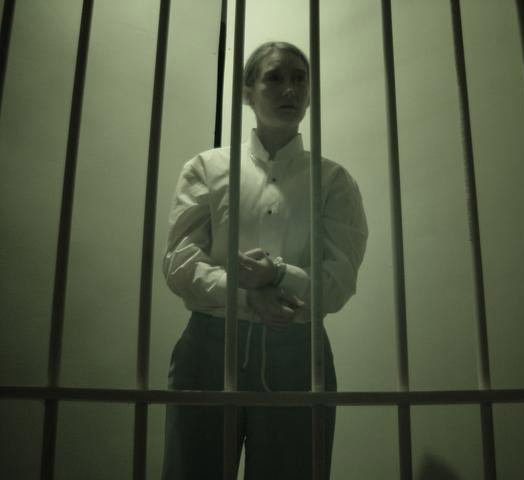 J.C. Luxton: My favorite memory of the whole Henriad was at twenty minutes to curtain on the opening night of King Richard the Second. From behind one of the styrofoam screens used to define our space, I hit the "play" button on a remote control and The Fray's "Over My Head" blasted out of the alarm-clock radio beside the royal bed where King Richard, John Bushy, and Henry Greene lay soundly sleeping. At that, the wind-up toy of our play lurched to life, as if our weeks of rehearsal has been a slow ratcheting of tension until the show had trembled in my directorial grasp like a mechanical bird, crazily straining to escape, and now our whole play, our whole Henriad, had skipped loose at last, kicked itself into motion through and around our audience, to swerve and chatter, strive and die, right up to the applause seven months later at the final curtain call of King Henry the Fifth. That's what hitting that button felt like.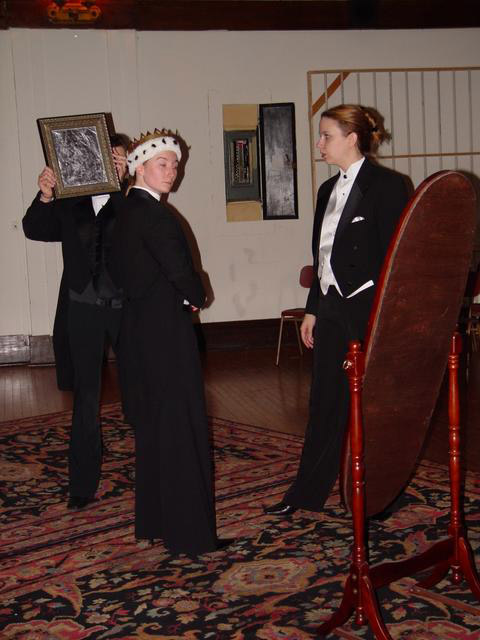 For more information on The Henriad, its inception and overall plan ("…an enormously ambitious undertaking, one rarely attempted in this country, yet the Prenzie Players are not ones to shy away from a challenge…"), see the preview article in the River Cities' Reader (Mike Schulz).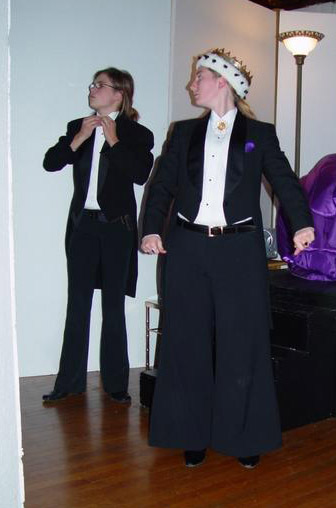 Program

Prenzie Players
Matt Moody
The late Thomas Woodstock, Duke of Gloucester, Uncle to Richard, husband to Eleanor
Sir William Willougby, fifth Baron of Eresby
An Anonymous Executioner
Dee Canfield
Eleanor de Bohun, Duchess of Gloucester, wife to Thomas Woodstock
Thomas Merke, Bishop of Carlisle,
Joan Holland, Duchess of York, mother to Edward
Maggie Woolley
Thomas, Baron of Mowbray, Duke of Norfolk
Queen Isabella of Valois, wife to King Richard
An Anonymous Soldier
Jeff De Leon
Sir William Bagot, Sheriff of Leicester
An Anonymous Executioner
Carrie Clark
Sir Henry Green, M.P.
An Anonymous Novice
An Anonymous Servant
An Anonymous Soldier
Jessica Armentrout
Sir John Bushy, Speaker of the House
An Anonymous Monk
An Anonymous Soldier
Stephanie Burrough
Richard of Bordeaux, King of England, husband to Queen Isabella
Linnea Ridolfi
Edward of York, Duke of Aumerle, Earl of Rutland, son to Edmund and Joan
John R. Turner
Edmund of Langley, Duke of York, husband to Joan, father to Edward, uncle to King Richard
Bryan Woods
John of Gaunt, Duke of Lancaster, father to Henry, uncle to King Richard
Owen Glendower, Prince of Wales (self-proclaimed)
Ralph, Earl of Westmorland
Aaron E. Sullivan
Sir Henry, third Baron Percy, Earl of Northumberland, father to Hotspur
Jeremy Mahr
Henry of Bullingbrook, Duke of Herford, Earl of Derby, son to John of Gaunt
And Introducing
J. C. Luxton as
Sir Henry Percy, son to Northumberland, called Hotspur
---
Direction: JC Luxton, Jill Sullivan-Bennin, Tracy Skaggs & THE CAST
Costume Design: Cait Bodenbender & Anne Woolley
Master Weaver: Peggy Freeman
Fight Master: Aaron Sullivan
Master Builders: Aaron Sullivan, Frank Woolley & Matt Moody
Property Master: Jessica Armentrout
Lighting Master: Jennifer Kingry
Publicity Master: Denise Yoder
Graphics Master: Jeff De Leon
Stage Master: Bryan Woods