By Aphra Behn
Directed by Stephanie Burrough
October 2012
"When Woolley and Mahr share the stage, just the two of them, they create that which I most love about theatre: the undeniable invitation to escape into a dream world."
–Thom White, River Cities' Reader
"…Aphra Behn set a standard for women's liberation, empowerment and equality."
–Jonathan Turner, Dispatch-Argus (preview)
"…terrific performances, creative and clever direction…"
–Sean Leary, Quad-City Times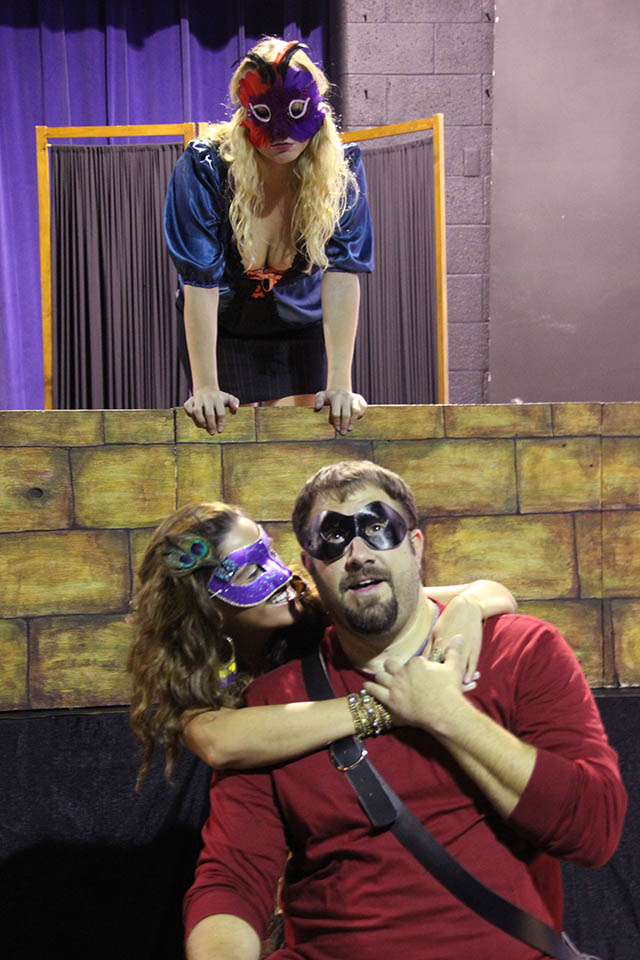 Prenzie Players Present: Season 11 and The Rover by Aphra Behn
Swashbuckling with a Bit of Romance
Trailer
In our eleventh year, the Prenzie Players explore the power of women and their voice across time. The season kicks off with The Rover, a feminist play by England's first professional female playwright.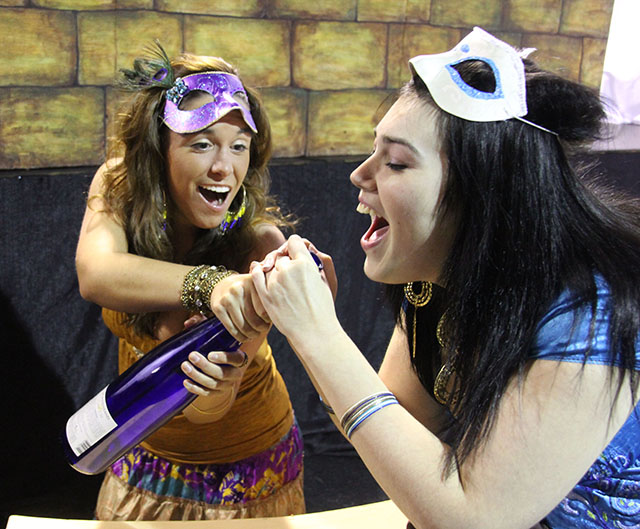 In the spring, we feature Antigone, a Greek tragedy of one woman's stand against her government. And we finish the season with the world premiere of Bear Girl, written by J.C. Luxton, an original play set in the historical Quad Cities, telling the story of the rise of Black Hawk through the eyes of the Sauk women. With this selection, along with three women directors at the helm, we hope to offer three distinct portrayals of women's strength that will foster an open forum for dialogue in the Quad Cities community.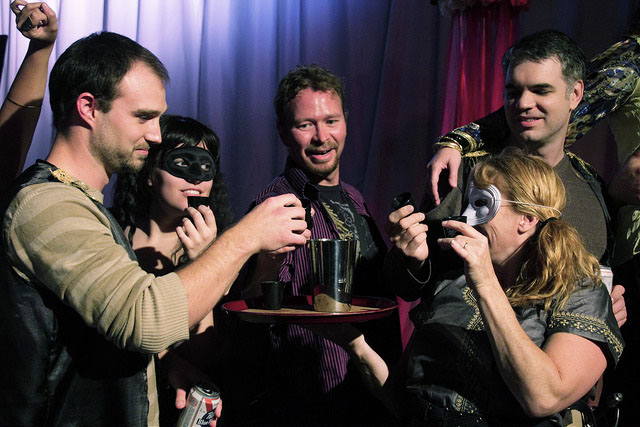 The season kicks off with The Rover, directed by Stephanie Burrough. The Rover, written by Aphra Behn, is a dark comedy that mixes seventeenth century sexual politics, comic buffoonery and romantic intrigue in Naples at Carnivale. Part swash-buckling drama, and part romantic comedy, The Rover challenges actors and audience alike to examine the roles that men and women in the realms of sex, love, and power.
Promo Poster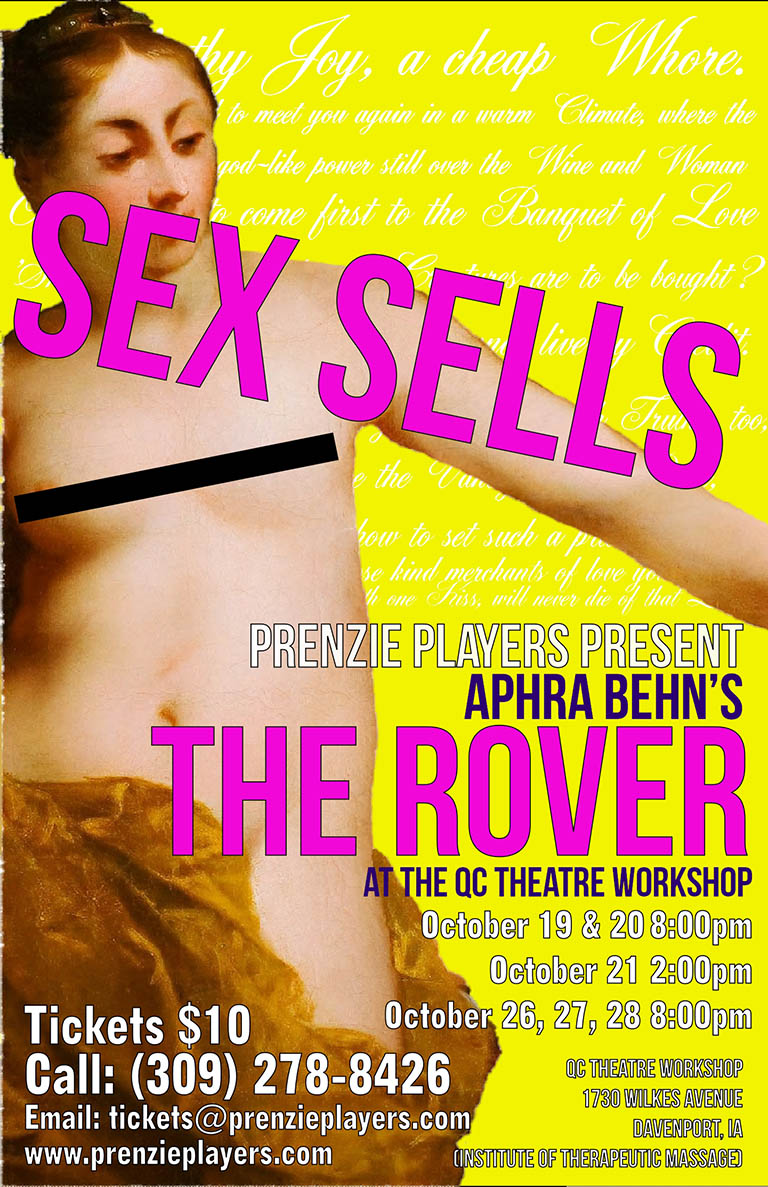 Program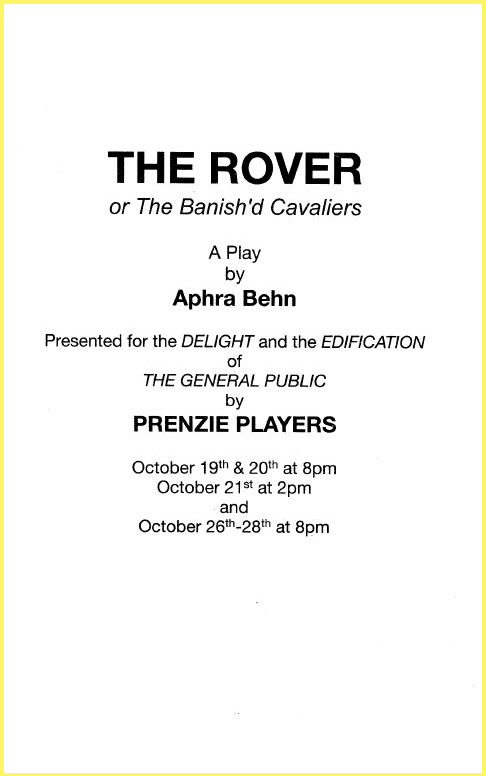 Players
Diane Emmert
Hellena
Kathleen Israel
Florinda
Jeb Makula
Don Pedro
Cole McFarren
Belville
Andy Koski
Frederick
Mike Schulz
Blunt
Jeremy Mahr
Willmore
Denise Yoder
Valeria / Soldier #1
Catie Osborn
Lucetta / Soldier #2
Angela Rathman
Moretta / Phillipa
Maggie Woolley
Angelica
Patrick Gimm
Don Antonio
---
Production Staff
Director: Stephanie Burrough and The Cast
Producers: Stephanie Burrough and Jake Walker
Stage Managers: Jessica Reimer and Mike Turczynski
Fight Master: Aaron Sullivan
Dance Choreographer: Linnea Ridolfi
Theater / Scenic Design: Aaron Sullivan, Stephanie Burrough, and Angela Rathman
Production Coordinator: Aaron Sullivan
Production Crew: The Cast, Aaron Sullivan, and Andy Lord
Costume Design: Kate Farence, Catie Osborn, and Stephanie Burrough
Costume Construction: Catie Osborn and Kate Farence
Lighting Design: Mike Turczynski
Lighting Master: Mike Turczynski
Music Design: Stephanie Burrough and Linnea Ridolfi
Marketing Director: Denise Yoder
Poster Design: Catie Osborn and Stephanie Burrough
House Managers: Nikki Steinbaugh and David Cabassa
---
Special Thanks
The QC Theatre Workshop
Tyson Danner
Andy Lord
Larry Lord
Tracy Skaggs
Seth Sullivan
Lora Adams
Jessica Sheridan & Shared Light Photography
Touch Connors
Brian Reimer
Linnea Ridolfi
Richmond Hill Players
J.C. Luxton
Jake Walker
Don & Sue Burrough